Services Provided
During our initial phone consultation, we will identify services you require and explain how we work.  When we schedule an in-person follow-up appointment in your home, any family members are also welcome to attend.  Prior to this in-person meeting, we will send you a copy of the Client Service Agreement for your review.
Some of the services that a Daily Money Manager can provide include: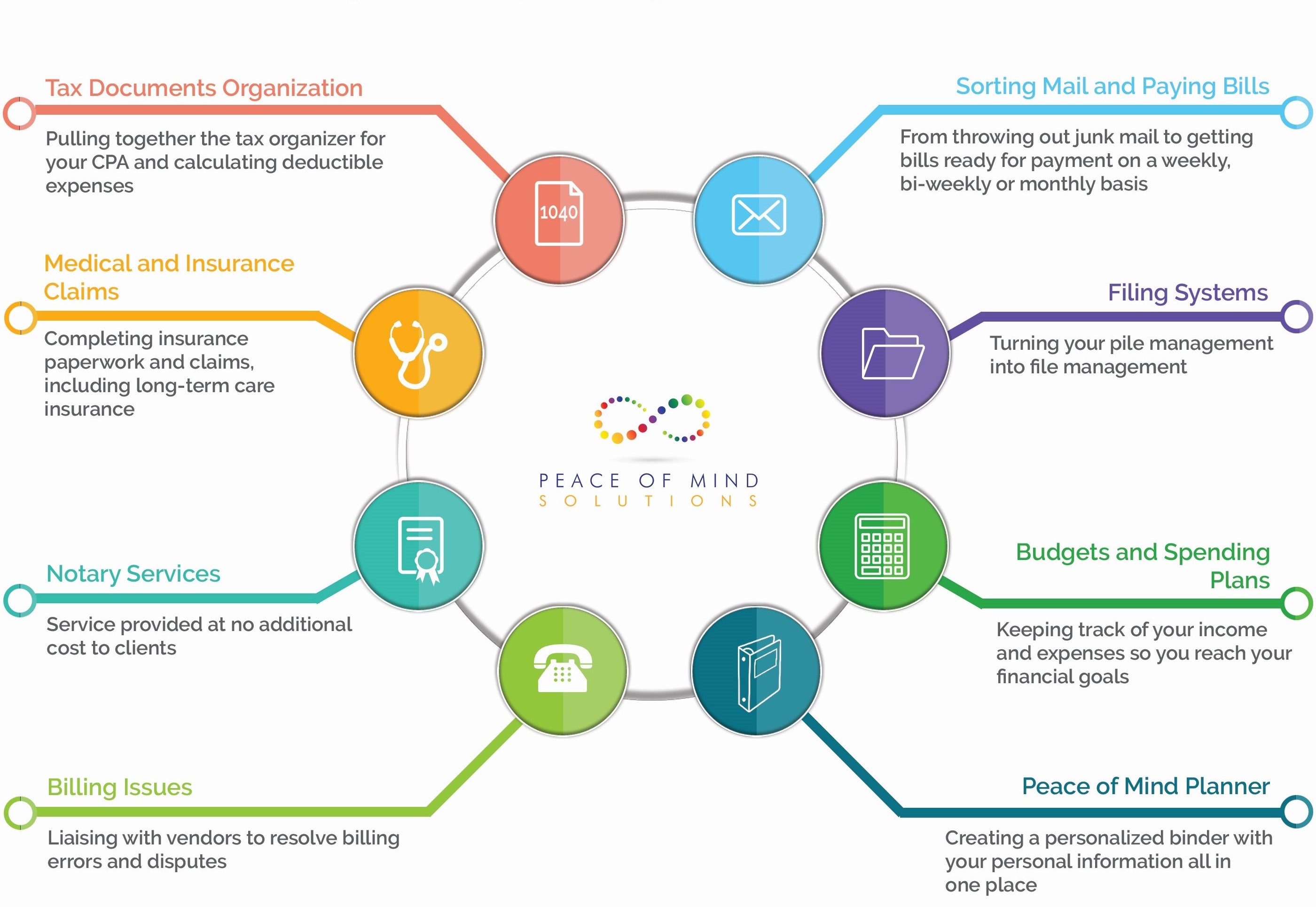 We can work according to your particular needs and on your schedule, whether we meet weekly, monthly or just once a year to get your tax documents ready.
We work with clients throughout the Washington DC, Maryland and Baltimore Metro region.
Estate Organization
We can also create a personalized and comprehensive Peace of Mind Planner with all of your critical estate documents which can be tailored to include your family and medical information, insurance and financial information and a comprehensive list of all your assets including where to find them so your loved ones are clear about your intentions and your last wishes and desires.
As we go through the checklist to complete the Peace of Mind Planner, we will ask you questions and make notes onto a document stored on a USB flash drive.  We can also make photocopies of important documents included in the Planner. The copies will never leave your house and any documents can also be scanned and stored on this flash drive.
We will then compile your Peace of Mind Planner to be reviewed, finalized and delivered to you within a 2 weeks of our last meeting.  It is recommended that you put your Peace of Mind Planner in a safe place and discuss it with your family and/or trusted advisers.  It is also suggested that you review your Peace of Mind Planner on an annual basis to update any changes in your circumstances.
Confidentiality Assured
We will protect your personal information with the following practices:
A Client Service and Confidentiality Agreement will be signed at our first meeting and we are bound by the AADMM Code of Ethics.
Your information will only reside on a flash drive and in a 3-ring binder that we prepare for you.
We do not write down any password information for you. There is a section in the binder for you to complete and we provide you with a blank spreadsheet on the flashdrive for you to record your password information.
You should keep your Peace of Mind Planner in a safe place in your home. Your flashdrive can also be password protected if you would like.
We are bonded, insured and have a completed security background check.